Forum Detecting Wales zaprasza na dwudniową bonanzę na polach obok słynnej Tintern Abbey
Zlot odbędzie się w sobotę 24 i niedzielę 25go kwietnia. Koszt za jeden dzień wynosi 7 funtów lub 12 za dwa. Camping jedynie 3.50 od osoby. Są toalety, łazienki i mile widziane jest palenie ognisk z czego mam nadziję skorzystamy
Sam teren to głównie pastwiska na bardzo ciekawym historycznie terenie:
http://en.wikipedia.org/wiki/Tintern
Krótki rekonesans na miejscu przyniósł kilka monetek i ten złoty pierścionek, więc nie jest źle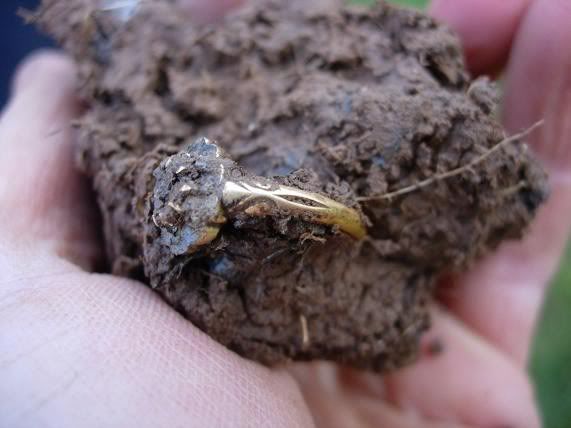 Jedyny problem to ograniczona ilość miejsc na zlocie (tylko 70 osób!) dlatego trzeba się szybko zapisywać w tym wątku:
http://www.detectingwales...hp?topic=6494.0
Pamiętajcie żeby zaznaczyć ile miejsc i czy z campingiem czy bez. Gdyby komuś był potrzebny namiot niech da znać.
To będzie pierwszy zlot Thesaurowiczów w Walii, więc nie zwlekajcie z decyzją!
Cytat:
Once again Tafflaff (Rob) has done us proud and organised a two-day extravaganza of a rally in the historic area of Tintern, most famous, of course, for the abbey. This will take place on the weekend of April 24th - 25th.

DetectingWales.com's official archaeological advisor, Waltonbasinman, has come up with the following assessment of the rally site:

The area of the 2010 2 day rally is an area steeped in history. It is one of the best documented Saxon Manors in the UK. The national monuments record have documents dating back to the 600s on land holdings covering pretty much all the Parish. This is underlined with the Monument Offa's Dyke running the whole length of the rally area. Earlier presence of man is also well represented by a Roman Fort and a Roman Road also running through the rally area. Less than a mile away is an excavated Roman Villa and unrecorded cropmark enclosures that would at best guess appear Roman. Previous Roman finds are known from the area. Prehistoric era is also well represented by a recorded Iron Age village and Bronze Age Barrows. The medieval period is well represented by the area being a Royal hunting ground and the nearby Churches and a large stone castle. A site with breathtaking views and a bag full of history does not guarantee finds but a big thankyou goes to Tafflaff Rob for obtaining such an interesting area.

Camping will be available close to the rally site at £3.50 per head (payable direct to campsite). The campsite facilities are not as extensive as some but there will be toilets, showers and washing facilities. Open fires are allowed, indeed encouraged with wood gathered from the local forest. It is quite a large site and as we will be going out of season booking is unnecessary. Campsite details will be sent out nearer the date by PM to those who have signed up for camping.

For those who are not keen on camping there are plenty of local B&Bs in Tintern.

Rob is organising a barbeque for those who wish to take part at 7pm on the Saturday evening (BRING YOUR OWN FOOD). Non camping members will be able to come this time.

Members can come for the full two days or just one. Tickets are £12 for two days or £7 for one day. Pay on the day.

Meeting time for the Saturday rally will be 9.30am and the rally will start at 10am. This later time is to allow time for campers to erect their tents. Members will be able to continue detecting on Saturday until dark.

On Sunday the meeting time will be 9am and the rally will finish at 4.30 pm.

Usual terms and conditions apply. Everyone who attends does so at their own risk and we recommend that everyone has civil liability insurance. If you are a member of a club you will probably already have this. Please check.

The location of the rally will be sent by private message to everyone who has signed up the day before the rally.

Thanks to Tafflaff (Rob) for finding the farm for us. We appreciate it.

If you wish to attend please sign up below. When you sign up please indicate whether you wish to attend:

JUST SATURDAY
JUST SUNDAY
BOTH DAYS
BOTH DAYS WITH CAMPING.